Garbanzo Bean Salad Recipe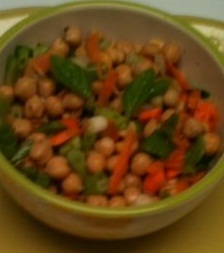 When the days are warm, light and healthy salads are perfect for lunch or as a light dinner side dish.

This Garbanzo Bean (Chickpea) Salad is a favorite because it is easy to prepare and provides a good source of protein, fiber and minerals. It also includes healthy and delicious vegetables.

Ingredients
One 15.5 ounce can of Garbanzo Beans (also known as Chickpeas) drained and rinsed
Shredded Carrots (approximately 1/3 cup as desired)
2-3 Spring Onions (chopped)
Splash of Olive Oil
Apple Cider Vinegar (about 1/4 cup as desired)
Lime Juice (Squeeze 1/2 small lime)
Fresh Basil (1/3 cup to taste chopped)
Mixed Italian Herb Dried Seasoning (1 Tablespoon - more or less as desired)
Fresh ground pepper (according to your taste)


Directions
Combine all ingredients. Chill in the refrigerator for about 2 hours.

Enjoy!

Quick Tip: Use scissors to quickly chop spring onions and fresh basil to save time and effort.

Return to Recipes from Garbanzo Bean Salad Recipe.