Easy Tuscan Salad Recipe with Basil and Fresh Italian Herbs
This recipe is my take on a popular restaurant dish that can be made easily at home.
Tuscan Salad Recipe
Key Spices: Mixed Italian Dried Herbs, Pepper and Fresh Basil
Ingredients

Mixed greens (baby lettuce)
1 can (14.5 ounces) white beans or cannellini beans (rinsed and drained)
1 can (14.5 ounces) diced tomatoes (drained slightly - retain some juices)
1/2 small onion (diced)
1 clove chopped garlic
Olive oil 1-2 tablespoons
Fresh Goat Cheese (thick slices)
1-2 teaspoons Mixed Italian Dried Herbs
Fresh Ground Pepper
Fresh Basil (as desired)
Heat olive oil in small pan on low heat. Add diced onions and garlic. Stir. After a few minutes, add can of drained and rinsed beans. Stir. Add slightly drained can of diced tomatoes. Stir. Add mixed dried Italian Herbs. Stir. Remove from heat. Cool. Then, chill for 2-3 hours. Place mixed greens on plate. Top with bean/tomato mixture. Then, add slices of goat cheese. Top with fresh basil and fresh ground pepper. Then, drizzle olive oil on top.
Important Note: The goat cheese and fresh basil make this recipe special. It's worth searching for and buying high quality Fresh Goat Cheese.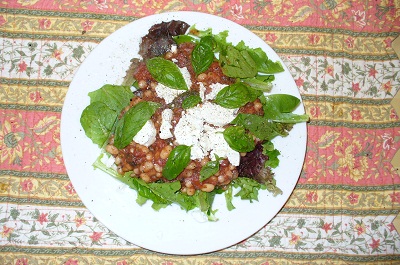 Return to
Simple Recipes from Tuscan Salad Recipe.