Simple Recipe for
Spicy Crab Soup
Spicy Crab Soup
Key Spice: Crushed Red Chile Pepper and optional Old Bay seasoning

Simple Recipe
As a Marylander, I love crabs and really enjoy crab soup. This recipe is ideal for a hot summer night when you just feel like something light.
It is perfect for seafood and spice lovers.
Ingredients
1 orange bell pepper
1 yellow bell pepper
1 chile pepper
1 bunch (7-8) green onions (scallions)
2 carrots
1/3 cup fresh cilantro
1 bag frozen organic corn
4 cans vegetable broth
1 tablespoon thai fish sauce
1 pound fresh crabmeat
1 teaspoon +++ crushed red pepper flakes
Old Bay seasoning (optional)
3 tablespoons oil
Chop peppers, carrots and green onions
Heat oil in large pot
Add chopped peppers and carrots, Stir
Add chopped green onions (scallions)
Stir and cook for a few minutes
Add frozen corn, fish sauce and vegetable broth
Stir, cover and cook for 8-10 minutes
Add crab, cilantro and red pepper to taste
Cook a few more minutes until heated through
Add Old Bay seasoning (if desired)
Quick tip
To quickly cut up cilantro and scallions, use scissors.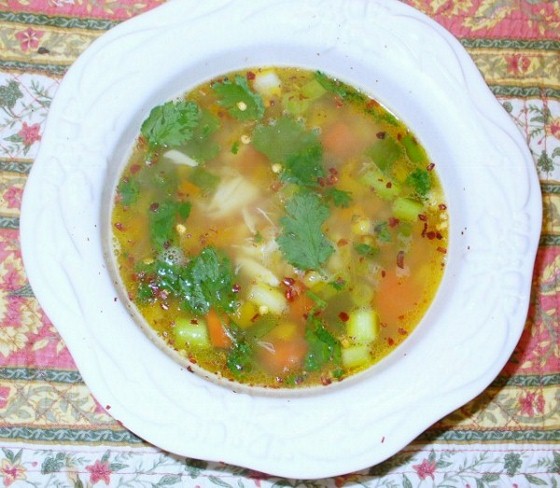 Return to Simple Recipes